Adapter Guide - Type L
Read about each plug type
Type L

Travel Adapter

The Type L Travel adapter has a varying compatibility with sockets based on its Ampere Rating.

The 10 A rated adapter is compatible with both Type L & Type C sockets whereas the 16 A rated adapter is compatible only with Type L sockets.

The universal receptacle of the adapter accepts plugs from devices of all countries of the world so do not worry about compatibility with your device while purchasing one.

However, be sure to check for your devices' voltage requirements to see if you need a voltage converter in addition.
Works in:
Chile
Eritrea
Ethiopia
Italy
Libya
Maldives
San Marino
Syrian Arab Republic
Uruguay
(see complete list of countries below)
How to identify
Type L

Adapter and Socket?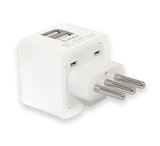 Type L Adapter
Technical specification
As mentioned above the compatibility of the Type L plug varies with its Amp rating and so there are two types of Type L plugs available.
The 10 A Type L Adapter has 3 round pins lined up in linear manner and spaced 5.5 mm apart from each other with a diameter of 4 mm in thickness.
The middle pin is the grounding pin as is in the 16 A Type L Adapter as well. However, the 16 A version has thicker pins - 5 mm thick and they are separated by a distance of 8 mm between themselves in a linear pattern.
Type L adapters are usually rated 220-240 V.
Guidelines for use
Step 1

Make sure the device you need to charge or use is switched off.

Step 2

Check the Voltage guide to see if yo uneed a Voltage Converter

Step 3

If you require a Voltage Converter, then plug your device cable or charger into the Voltage Converter first and then plug the Voltage Converter into your Type L Travel Adapter.

Step 4

If you aren't using a Converter, plug the device cable/charger directly into the Type L Travel Adapter.

Step 5

If there's a switch beside the wall socket, make sure it is in the OFF position before you plug in your device.

Step 6

Plug the Travel Adaper into the soecket and voila, your device will start working!.

Step 7

If you have a dual device adapter and want to plug in your second device, remove the adapter from the wall socket and then repeat Seps 4 to 6.