Adapter Guide - Type H
Read about each plug type
Type H

Travel Adapter

The Type H Travel adapter is compatible only with Type H sockets. The universal receptacle of the adapter accepts plugs from devices of every country of the world.
Works in:
Israel
Palestine
West Bank
Gaza Strip
(see complete list of countries below)
How to identify
Type H

Adapter and Socket?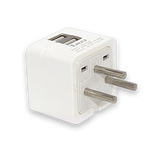 Type H Adapter
Technical specification
The Type H Adapter has 3 long & thin, round pins arranged in an inverted triangular shape so that it looks like a V.
The third lowermost pin is the grounding pin.
The Type H socket can accept Type C plugs as well, so you can use your Type C adapter in Israel.
Type H adapters are rated 230 V and 16 A
Guidelines for use
Step 1

Make sure the device you need to charge or use is switched off.

Step 2

Check the Voltage guide to see if yo uneed a Voltage Converter

Step 3

If you require a Voltage Converter, then plug your device cable or charger into the Voltage Converter first and then plug the Voltage Converter into your Type H Travel Adapter.

Step 4

If you aren't using a Converter, plug the device cable/charger directly into the Type H Travel Adapter.

Step 5

If there's a switch beside the wall socket, make sure it is in the OFF position before you plug in your device.

Step 6

Plug the Travel Adaper into the soecket and voila, your device will start working!.

Step 7

If you have a dual device adapter and want to plug in your second device, remove the adapter from the wall socket and then repeat Seps 4 to 6.